Product:
Dye sublimation is a process that uses a special heat sensitive dye to print graphics and text onto paper. The paper is then placed on a final printing item and both are placed into a heat press for about 20~45 seconds at 180~230 degrees. When the sublimation is completed, the image on the paper has transferred to the final printing item and has actually become a part of the surface.
Durafos provides quality dye sublimation inks and compatible ink cartridges designed for various kinds of piezo typed large format printers such as Epson, Mimaki, Mutoh and Roland etc. which use dye sublimation inks.
Durafos premium dye sublimation inks and compatible ink cartridges ensure great performance with a large variety of media, vivid color and high speed printing without interruptions.
Features and Benefits:
High quality at reasonable price
UP 60% cost saving compared to printer makers
Environmentally friendly and fire proof
Vibrant colors that match the original color gamut
Excellent water resistance
Excellent light fastness
Fast drying for high productivity
Optimized adhesion with wide range of media

Color Range:
Black, Cyan, Magenta, Yellow, Light Cyan, Light Magenta, Orange, Green, Cleaning Solution
Applications:
1 Liter Bottle, 1 Liter Pack, 220ml Ink Cartridge, 440ml Ink Cartridge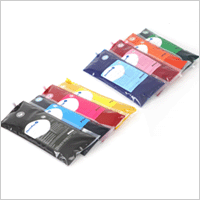 Applications:

Door, Wall paper, Tile, Carpet
Fancy photo frame, Mug
Interior Verticals, Art-tails
Picture, Banner, Signboard
Textile Bag, Shoes, Clothing
T-shirt, Medallion, Key ring


If you want to see all the models and cross reference of our products,
please click here.


All brand names and trademarks are the properties of their respective owners, and all model designations are for compatibility purposes only.