Products:
Durafos currently offers two kinds of premium quality real solvent based pigmented inks: one for the plotters equipped with Epson 10000 head and the other for the large format printers equipped with Xaar 128 & Spectra head.
Durafos solvent inks are popular for their outstanding features such as wide color gamut, durability, low cost and strong adhesion to any kinds of media. Durafos solvent inks also withstand a great deal of water and direct sunlight exposure, so they are suitable for any kinds of outdoor applications such as advertisement, signage, and banner and so on.
We also develop 440ml solvent ink cartridges as well as bulk ink according to the new market trend for the bigger quantity of ink cartridge, which is quite cost effective and popular on the market.
Features and Benefits:
High quality at reasonable price
UP 60% cost saving compared to printer makers
Vibrant colors that match the original color gamut
Excellent water resistance
Excellent light fastness
Fast drying for high productivity
Optimized adhesion with wide range of media

Color Range:
Black, Cyan, Magenta, Yellow, Light Cyan, Light Magenta, Cleaning Solution
Product Type:
1 Liter Bottle, 220ml Ink Cartridge, 440ml Ink Cartridge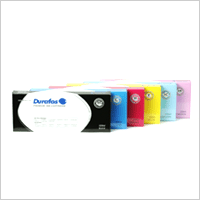 Applications:

Automobile advertisement
Exhibits
Fire art
Outdoor signage


If you want to see all the models and cross reference of our products,
please click here.


All brand names and trademarks are the properties of their respective owners, and all model designations are for compatibility purposes only.